Learning Hub Frequently Asked Questions
How do I reset my password?
1) Once logged into the Learning Hub, it will take you to your Dashboard. From here, in the right-hand corner, you will see your name displayed with a profile picture icon. Click on this and it will display a list of options as shown in the picture below.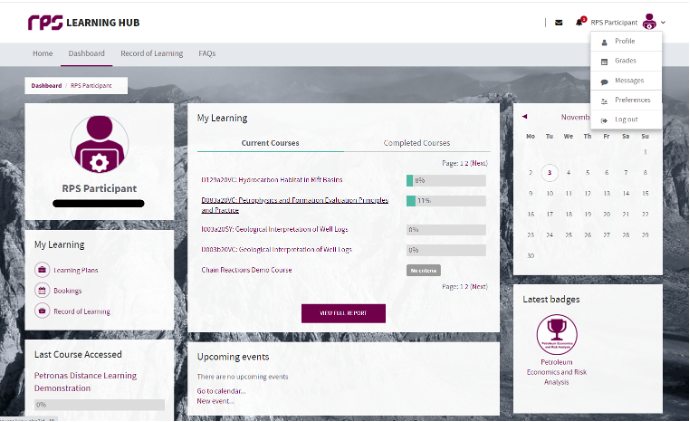 2) Click on 'Preferences', and under 'User Accounts', click on the 'Change Password' option.

3) Here you will need to input your current password, your new password and reconfirmation of your new password. Once these fields are completed click on 'Save Changes'.

How do I update my profile?
1)
Once logged into the Learning Hub, it will take you to your Dashboard. From here, in the right-hand corner, you will see your name displayed with a profile picture icon. Click on this and it will display a list of options as shown in the picture below.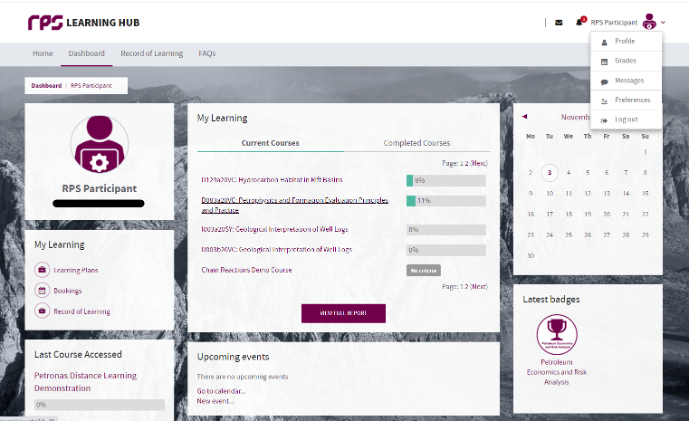 2) Click on 'Profile', which will open your profile on the Learning Hub. Here you will find details like your email address, your location, courses you are enrolled on, etc. Under the 'User Details' wording, click on 'Edit Profile', where you can then amend various details. Those details with an asterisk by them are mandatory. You can upload a photo in this section if you so wish.

Hints and Tips

Browser – It is advisable to use Google Chrome or Firefox to ensure functionality while using the Learning Hub. Do not use Internet Explorer. Please ensure you have one of these installed on your laptop/computer well in advance of your training course.
Virtual Classroom Sessions
BBB Tutorial Video
How do I join my course webinar session?
The webinars for your course will be run using Big Blue Button (BBB). These will be accessed via a link which can be found on the main page of the course you are participating in as per the following steps:
1) From your Dashboard, click on the course you are enrolled on.
2) On the course page, scroll down to Session 01 where you will find a linked called 'Webinar Session 01'. Click on the link then follow the instructions.
3) When prompted about how you would like to join the audio, please choose 'Microphone'. If your web browser asks for permission to access your microphone, please click on 'Allow'. You will then be directed to perform an echo test, say a few words and confirm that you can hear those words by clicking on the 'thumbs up' symbol (i.e. Yes).

4) You will then join the webinar session. Your microphone will be on, but your webcam will automatically be turned off. At the first session we encourage participants to turn their webcams on in order to introduce themselves to the tutor/s. Again, your web browser may ask permission to use your webcam, so please click 'Allow'. This will bring up a pop-up box showing a view of yourself plus camera and quality options. Please amend if necessary, then click on 'Start sharing'.
The webcam and microphone on/off symbols are located to the bottom of the screen. For the remainder of the session we advise that your camera is off, and microphone muted. You can use the chat feature to ask any questions or highlight if you have a problem. An RPS Course Facilitator will be on hand to assist.
Please also note that all webinar sessions are recorded.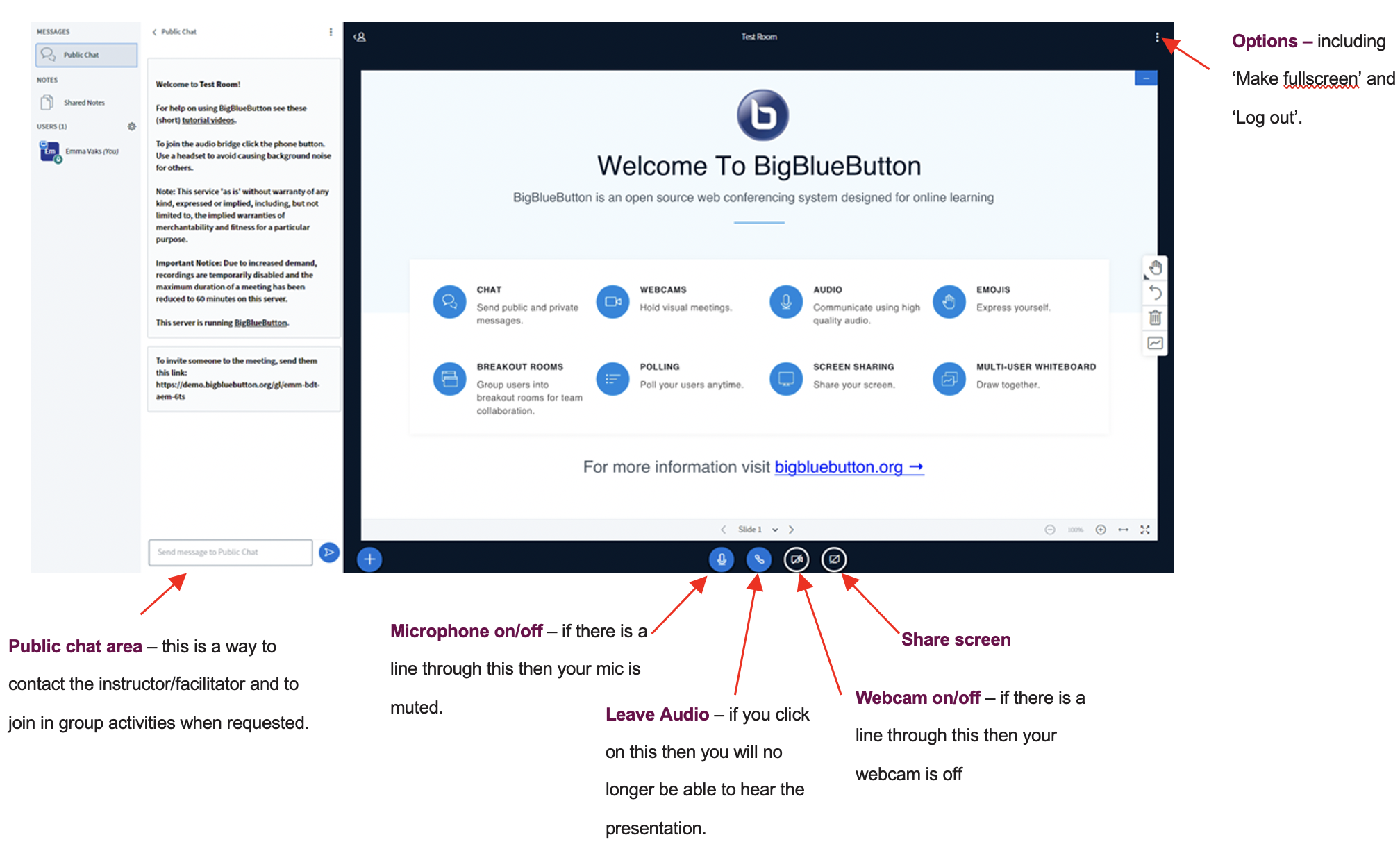 How do I join a breakout room?
If breakout rooms are used during your webinar session, then you will receive an invite to join the breakout room. Simply click on the 'Join Session' which will open another tab and take you to the breakout room area. You will be asked "How do you want to join the audio?" and click the microphone option. The breakout room will close once a) the time has run out (this would have been set by the Instructor/Facilitator) or b) the Instructor/Facilitator can close the breakout rooms. You will see a message stating that you have been logged out of the conference once the rooms have been closed; simply click on to the tab where the original webinar session is taking place.
How to share your screen?
In some instances, instructors might include activities that require you to share your screen. In order to do this, you will need to click on the Screen icon which can be found at the bottom of your screen (see the Screen Set Up Diagram on page 3).
How do I leave a webinar session?
In order to leave a webinar session, please go to the top right corner of your screen where you will see three dots (see Screen Set Up Diagram on page 3). Click on these and select 'log out'. Alternatively, by closing the web page, this will also close the session.
Hints, Tips and Troubleshooting
Browser - You will need to access the BBB using Chrome or Firefox as your browser. You many need to allow pop-ups and cookies for this page on your browser.
Audio/Sound issues – should you experience any issues with your audio/sound then please review the following steps to ensure correct set up:
Ensure you have allowed your web browser permission to access your microphone; if this is required then a pop-up box will appear and you will need to click 'Allow'.


Please carry out the echo test. If you cannot hear yourself then click the 'thumbs down' symbol (i.e. No). Ensure the 'Microphone' and 'Speaker' source settings match those of your speaker settings on the PC task bar, then click 'Retry'.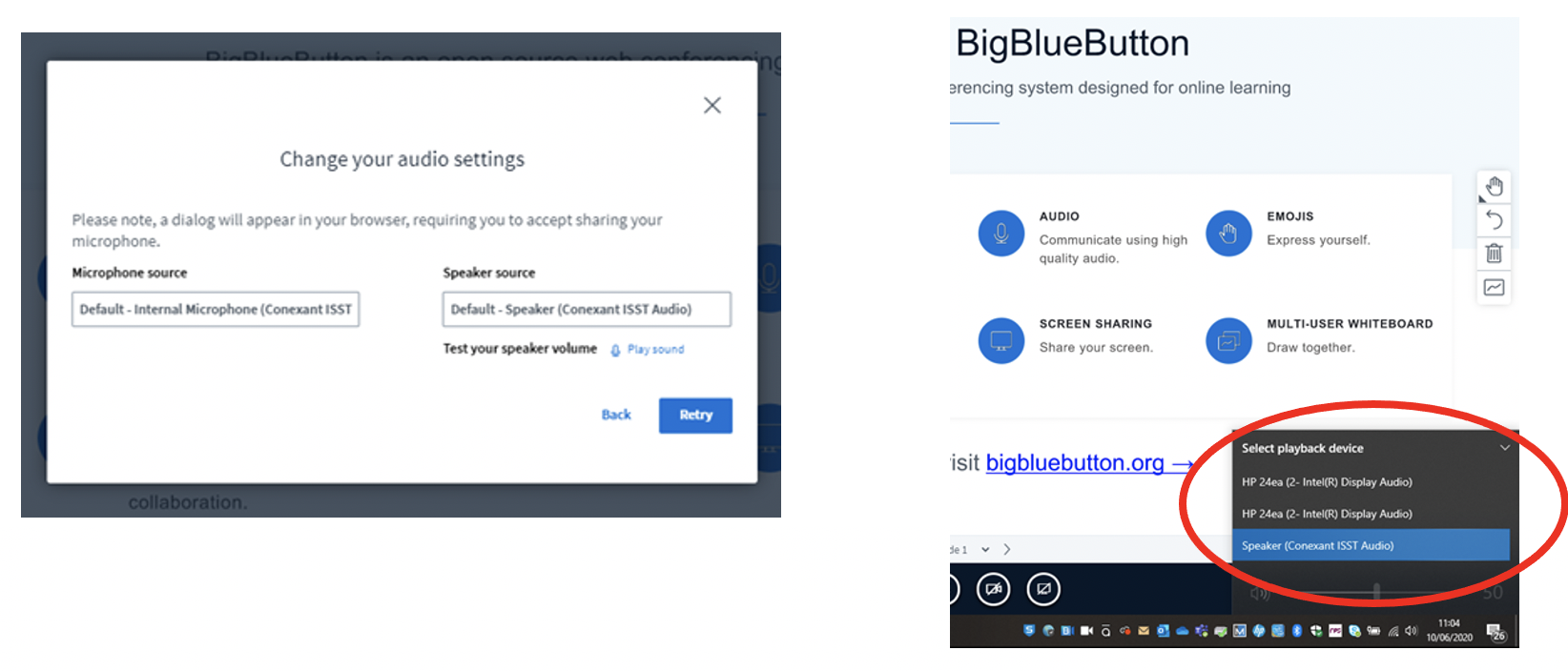 Do you have headphones in, and a microphone physically attached to it? If not, your audio will not get captured. Either you need a different set of headphones with a microphone or not use a headset/headphones at all. Please exit your webinar session and re-enter again with the new headset rather than just switching it over.
Try clicking the microphone mute/unmute button.
Please try logging out of the BBB webinar session, then re-joining following the necessary steps.
Should your audio still not be working then you may have to listen to the session, by selecting 'Listen Only', without the ability to talk. The main thing is that you can hear the instructor. You can use the chat feature for questions.
Error Codes #1020 or #1007
These codes highlight your configuration differences within your machine settings (no fix as yet). We would advise you to try using a mobile/cell phone to connect to the application for audio. A suggestion would be to restart your computer and use Google Chrome (not Safari or Internet Explorer)
Breakout Rooms

Should you find that you have not been allocated a breakout room or you have accidentally closed the tab then send a message using the group chat and the Facilitator will assist you.
Screen Sharing Issues
"Permission to access screen not granted" - If you are in Google Chrome and using Mac OS Catalina (10.15 or later), you need to go into System Preferences, Security & Privacy, Privacy tab, select Screen Recording on the left hand bar, and then select Google Chrome from the list on the right. You will have to quit and restart Google Chrome, but you should be able to screen share when this setting is done. Sometimes screen will not share unless the Chrome window is NOT in full screen.
Using "Application Window" screen share option - application (such as excel sheet or image) will not show up if it is minimized. It can be behind the BBB Chrome window, but must be fully open in order to be given as an option for application window sharing.
Last modified: Friday, 12 February 2021, 3:38 PM